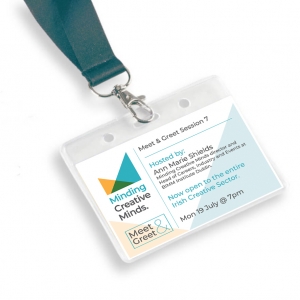 On Monday June 21st, Minding Creative Minds' (MCM) in association with The Department of Tourism, Culture, Arts, Gaeltacht, Sport and Media, EPIC Working Group, Irish Music Rights Organization (IMRO), Irish Recorded Music Association (IRMA), MCD Productions & The Cowshed will hold its next online meet and greet session. This MCM Meet and Greet Session is open to the entire creative community in all of Ireland and our Irish overseas.
The aim of our MCM Meet and Greet Session is for attendees to share our experiences, share advice with each other and have a conversation with our peers as we strive to get our sector back to full health. Some of us may wish to tell our story, others may have questions, some of us may wish to attend as spectators just to find out a little more about what we do. Whatever works for you in attending, works for us. We want you to help us shape MCM and our events, so we as an organisation can maximise our efficiency in aiding and supporting your needs.
"This will be our 7th Meet & Greet event and Minding Creative Minds is delighted to host this evening on a monthly basis offering support, encouragement and an opportunity to share ideas and plans as we plan for the return of arts, cultural and live events once again. MCM recently celebrated it's first anniversary and we'd like to thank everyone who has contacted us over the past year and to continue to highlight that anyone working within the Irish Creative sector is eligible to use the services of Minding Creative minds which range from our 24/7 helpline to free counselling to advice on a range of issues ranging from legal, to financial to career matters." Dave Reid, Minding Creative Minds Founder.
If you experience any problems when registering or following registration for our Meet and Greet session please contact us on info@mindingcreativeminds.ie.
https://mindingcreativeminds.ie/wp-content/uploads/2021/06/MG-session-7-lanyard-complete-sq.jpg
887
887
Rob Davis
https://mindingcreativeminds.ie/wp-content/uploads/2020/05/MCM-logo-3.jpg
Rob Davis
2021-06-29 11:30:41
2022-03-24 13:01:40
Meet & Greet 7 – July 19th