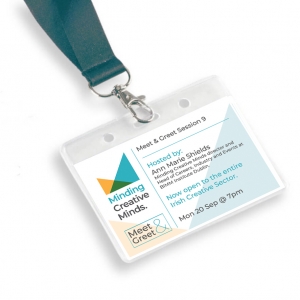 On Monday September 20th, Minding Creative Minds' (MCM) in association with The Department of Tourism, Culture, Arts, Gaeltacht, Sport and Media, EPIC Working Group, Irish Music Rights Organization (IMRO), Irish Recorded Music Association (IRMA), MCD Productions & The Cowshed will hold its next online meet and greet session. This MCM Meet and Greet Session is open to the entire creative community in all of Ireland and our Irish overseas.
The aim of our MCM Meet and Greet Session is for attendees to share our experiences, share advice with each other and have a conversation with our peers as we strive to get our sector back to full health. Some of us may wish to tell our story, others may have questions, some of us may wish to attend as spectators just to find out a little more about what we do. Whatever works for you in attending, works for us. We want you to help us shape MCM and our events, so we as an organisation can maximise our efficiency in aiding and supporting your needs.
"As we prepare for our sector to finally reopen, it is even more important we stay connected with our peers and colleagues. Minding Creative Minds Monthly Online Meet and Greet Session facilitates this perfectly. By being present we can be an active support for each other, by getting involved we can help each other navigate the months ahead as our industry reopens and we can regain our work routines. Some have already had an opportunity to dip our toes into the work arena via test events and while we will all be thrilled to get back to steady work routines, this can bring its own challenges. Minding Creative Minds Meet and Greet Sessions will bring us together so we can continue to support each other and our industry beyond Covid restrictions. If you have not been able to visit already, consider coming by on September 20 th to say Hi." Ailish Toohey, Communications Lead at Minding Creative Minds.
https://mindingcreativeminds.ie/wp-content/uploads/2021/09/MG-session-9-lanyard-complete-sq.jpg
887
887
Rob Davis
https://mindingcreativeminds.ie/wp-content/uploads/2020/05/MCM-logo-3.jpg
Rob Davis
2021-09-14 17:12:49
2022-03-24 13:02:26
Meet & Greet 9 – September 20th