Meet & Greet Session 2 – February 15th, 7pm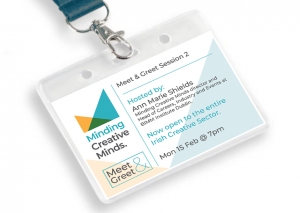 On Monday February 15th, Minding Creative Minds' (MCM) in association with EPIC Working Group, Irish Music Rights Organization (IMRO), Irish Recorded Music Association (IRMA), MCD Productions & The Cowshed will hold its second online meet and greet session. This MCM Meet and Greet Session is open to the entire creative community in all of Ireland and our Irish overseas and will be chaired by Ann Marie Shields, Minding Creative Minds director and Head of Careers, Industry and Events at BIMM Institute.
Unlike our inaugural Meet and Greet session which was interview led, we will be implementing a slightly different approach for our event on February 15th;
When registering, there will be an opportunity for you to log your question or an area of interest you would like discussed;
In planning our schedule of Meet and Greets, are there any topics that you would like us to cover?
For our upcoming session do you have a question you would like to discuss with other participants?
Do you have any well-being tips or resources that you would like to share?
We have aspired from our first MCM Meet and Greet Session to investigate various approaches to each meeting and the feedback to our survey following December's session suggests this to be what you would like also. We want to naturally come to a format which works for everyone, especially the attendees. You. This is your event.
In December, with thanks to its existing funding partners and new funding by The Department of Tourism, Culture, Arts, Gaeltacht, Sport and Media we were thrilled Minding Creative Minds was able to open its services to the entire creative community both in Ireland and our Irish overseas (circa 55,000 people in total). As a result, on February 15th in addition to our friends and colleagues in the music and live events sectors, we look forward to welcoming our friends and colleagues from our extended creative community to this Meet and Greet Session.
The MCM Meet and Greet Session on February 15th will commence at 7pm and advance registration is necessary, but this also affords you the opportunity to log your enquiry or question as early as possible, just click here and follow the instructions.
The aim of our MCM Meet and Greet Session is to enable attendees to share our experiences, share advice with each other and have a conversation with our peers as we strive to get our sector back to full health. By holding our MCM Meet and Greet Session, Minding Creative Minds wants to help in building resources and facilitate an atmosphere of help and support for all and encourage an open conversation within our community. Some of us may wish to tell our story, others may have questions, some of us may wish to attend purely as spectators to find out a little more about what we do. Whatever works for you in attending, works for us. We want you to help us shape MCM and our events, so we as an organisation can maximise our efficiency in aiding and supporting your needs.
The effects of Covid 19 hit all sectors in Ireland in 2020 and now again in 2021 and we know first-hand how severe our music, live event sectors have suffered and wider creative communities. With restrictions tightened and extended following a third wave of the illness, the result is financial loss for us all and an extended delay in the opening performing arts arenas which dominos across connected service streams in our sector. However, for some of us the mental health repercussions have created a greater sense of isolation and of course we are not on our own; the entire industry is going through this trauma at this time. Our individual stories impact us all in different ways. There is not a one size fits all fix.
"In this time of deep personal struggle for many, it's become more obvious how important music and the arts are to the well-being of our society, and I don't doubt there will be a renewed appreciation for the arts as a result. It's very encouraging that Minding Creative Minds Meet and Greet sessions enable our music, live and wider creative communities to come together to support each other and share valuable information. By helping each other our artistic community can emerge from this period stronger, wiser and more unified. I'm really looking forward to once again meeting and being inspired by, colleagues, friends and peers at MCM's next Meet and Greet on February 15th." – Ann Marie Shields, Minding Creative Minds and Head of Careers, Industry and Events at BIMM Institute.
https://mindingcreativeminds.ie/wp-content/uploads/2021/02/MG-session-2-lanyard-complete.jpg
610
860
Rob Davis
https://mindingcreativeminds.ie/wp-content/uploads/2020/05/MCM-logo-3.jpg
Rob Davis
2021-02-01 10:51:32
2022-03-24 12:59:50
Meet & Greet – Session 2