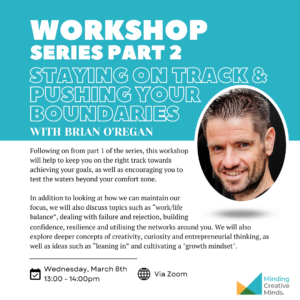 Following on from Part 1 of the series, this workshop will help to keep you on the right track towards achieving your goals, as well as encourage you to test the waters beyond your comfort zone.
In addition to looking at how we can maintain our focus, we will also discuss topics such as "work/life balance", dealing with failure and rejection, building confidence and resilience, and utilising the networks around you.
We will also explore deeper concepts of creativity, curiosity, and entrepreneurial thinking, as well as ideas such as "leaning in" and cultivating a "growth mindset".