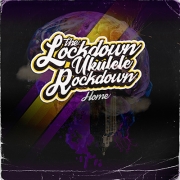 "Throughout the pandemic and generally in times when the world gets tough on people music and musicians can often be the greatest therapists. Unknowingly they support and guide many of us through these difficult times but right now musicians and their vast team of crew from sound engineers to stage managers need help more than most with their entire industry unable to work. It's because of this I am delighted to have "The Lockdown Ukulele Rockdown" release support the Irish Live Event Industry Crew through two great initiatives – Minding Creative Minds and the AIST (Association of Irish Stage Technicians) Hardship Fund. I am encouraging anyone who enjoys The Lockdown Ukulele Project to go to the 'We Are The Support Act' Go Fund Me Page and donate what they can." – Niall Breslin
As we continue to grapple with social distancing and the changes that 2020 has thrown at us, it is more important than ever to know how to take care of one's mental health; whether that's listening to a favourite band, playing a musical instrument, getting outside, or taking a few moments to meditate. For Where is My Mind? host and presenter Niall Breslin, the positive influence that music can have on one's mental health propelled him to create a special lockdown initiative: the 'Lockdown Ukulele Rockdown'. To coincide with the release of the 'Lockdown Ukulele Rockdown' track, research was commissioned to look at the potential benefits that playing an instrument can have on the soul. It found that 89% of UK adults who regularly play an instrument feel it positively affects their mental health: more than half of us (56%) felt relaxed, 48% felt satisfaction, 43% felt peaceful and just over a third suggested playing music gives them a sense of purpose in life. To bring this to life, as well as to give listeners the tools they need to create music of their own, Breslin and his team bought more than 400 ukuleles and gifted them to individuals currently working on coping with their mental health. The budding musicians set off to hone their new skill, learning to play the song " Home " by Edward Sharpe and the Magnetic Zeros . After a few weeks of practice, the ukulele players came together — albeit at a distance— for a chance to record themselves on a brand new track and special music video set to coincide with a Where Is My Mind? podcast episode on the topic of music and mental health.
The recording features 400 budding Irish ukulele players, professional musicians, choir singers, Niall's band The Blizzards , and some special Irish artists as guests. The lockdown track will drop on the Where is My Mind? podcast on Monday 27th July. The episode itself goes behind the scenes to follow the creation of the world's first ever "Lockdown Ukulele Rockdown" band – with the episode providing the tools listeners need to learn an instrument at home and explaining the healing power of music. Dublin residents Emma Cooke and her dad both took part in the 'Lockdown Ukulele Rockdown': the pair were socially isolating together as Emma had been classified as high risk due to her ongoing chemotherapy, leading to feelings of anxiousness and concern about what lay ahead.
Emma Cooke, 'Lockdown Ukulele Rockdown' band member commented, "To keep myself strong and sane, I practiced yoga, mindfulness and continued with my hobbies. Learning the ukulele was such a challenge, but like anything you just have to stick with it, follow the advice and stay focused. Not thinking about the news or being attached to social media was hugely satisfying and gave me a sense of purpose. I will definitely continue playing, and would encourage anyone who finds themself in isolation, and facing challenges with their mental health to do the same. "
Niall Breslin, musician, mindfulness expert and host of Spotify exclusive Where Is My Mind? said, "Music is an incredible unifier. I knew that sharing a musical journey would lift people's spirits in a way that so little else could in the context of what was going on in the world. Now when I listen to the song we created, all together – all the voices, the whistles, the strumming, the singing, the energy – the love just comes right through the music. All of us, in our homes, all dealing with one of the scariest times in our lives; we all came together, we all came home, through this song."
With 75% of those polled saying they specifically play their chosen instrument as a way of unwinding or de-stressing, when asked when most likely to play their chosen instrument, over half of (54%) said after a stressful day at work, 34% when worrying about money and 30% most likely to play when stressing about an upcoming event. The 'Lockdown Ukulele Rockdown' episode will mark the final episode of Season 2 of Where Is My Mind which has seen Niall and his guests explore different coping skills for the ever-changing, always-on, challenging world we're now living in; from nature, to laughter, to love. The podcast won creative podcast of the year at the British Podcast Awards earlier this month.
https://mindingcreativeminds.ie/wp-content/uploads/2020/07/LUR-feature-img.jpg
287
355
Rob Davis
https://mindingcreativeminds.ie/wp-content/uploads/2020/05/MCM-logo-3.jpg
Rob Davis
2020-07-27 16:26:05
2020-07-28 14:57:16
Lockdown Ukulele Rockdown